How does one rise above an ocean of talent?  Well, sex sells, we all know that.  On the international stage, gender exhibitionism and gender confusion clearly help bring attention to yourself.  Of course, gender bending is not new among entertainers — Bowie, Marilyn Manson, Boy George, Madonna, Lady Gaga, Annie Lennox, are all or have been gender opportunists, that exploit gender and gender ambiguity as suits them at the time, invariably to shock.
All that to say, the latest in the parade of gender opportunists is the 2014 winner of the Eurovision music content, Conchita Wurst, an intriguing transgender entertainer from Austria.  Here is his/her performance of Rise Like a Phoenix:
The video is well conceived, and the song is an exceptional platform for Conchita. It could easily be the theme song for a James Bond film.
Conchita's real name is Tom Neuwirth.  I have to say, for me the beard is disconcerting in this context. As it is meant to be, no doubt. However, that is a minor distraction, as the performance, the presentation and the song are exceptional.
Here is a photo of ungendrified Tom: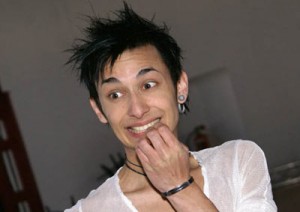 Along the same gender ambiguity meme, here is a great video by French artist Stromae, and his/her performance of Tous Les Mêmes (All The Same):