"I spent half my money on gambling, alcohol, and wild women.  The other half I wasted." – WC Fields
Here is a visualization prepared by data scientist Seth Kadish.  The chart presents the house odds in gambling in Las Vegas casinos, the percent of wagered money won by the house against the total revenues for the week.  For example, if $100 is wagered on blackjack, the house will take 11%, or $11.  The data comes from reports published by the Nevada Gaming Control Board .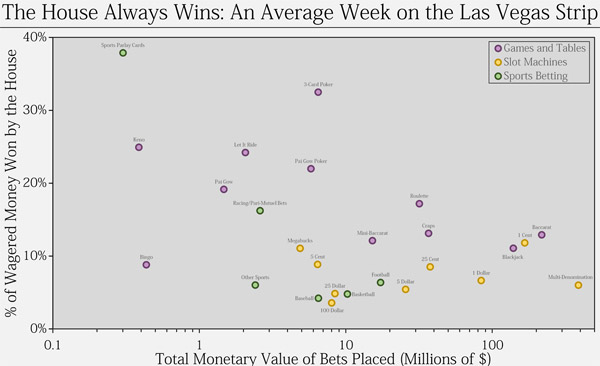 You should already know that the house always wins, or more precisely, the odds favor the house.  If it doesn't, they unilaterally convict you of card counting and ban you from ever playing in the casino again.
The chart is hard to read here, so if you want to see the detail, go to Seth's site.  The pithy summary is:
sports parlay cards are the worst odds for the player, with the house taking nearly 40% of the amount of money wagered (upper left quadrant)
3-card poker is the worst card game, at about 33%
roulette is about 18%
craps is about 14%
blackjack is about 11%
your best odds is the $100 slot, at about 4%
This is not to condemn gambling, but it *is* a money pit.  Thanks for playing.