Here is a painting by Chinese-born now Canadian artist Liu Yi.  It is an exceptionally beautiful and provocative piece.  The imagery will no doubt confront some viewers.  However, I am posting it because of the intriguing geo-political insights embedded in the piece, which really deserve close consideration.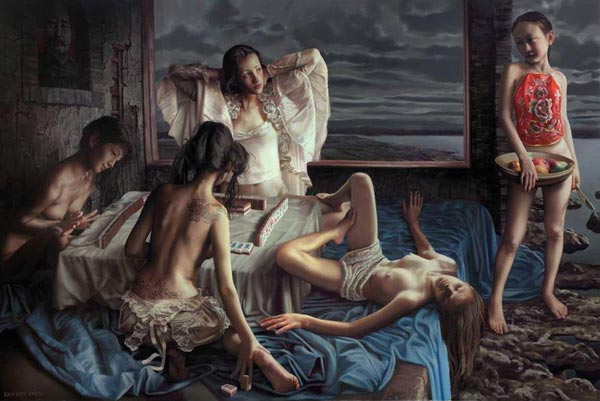 I can't take credit for the following synopsis, and I don't know where it originally came from … perhaps the artist himself.  If I find out, I will amend this post.  There is clearly much subtle detail that requires some guidance to discern.  Within the context of global affairs, the painting conveys deep insights.
The work, titled "Beijing 2008", depicts four young women playing Mahjong.
The woman with the tattoos on her back is China. On her left, focused intensely on the game, is Japan. Across from China, the one with the shirt and head cocked to the side is America. Lying on the floor is Russia. And the girl standing on the right is Taiwan.
Of China's visible set of tiles "East Wind" has a dual meaning. Firstly, it signifies China's revival as a world power. Secondly, it signifies the military might and weaponry that China possesses has already been placed on the table. On one hand, China appears to be in a good position, though we cannot see the rest of her tiles. Additionally, she is also handling some hidden tiles below the table, behind her foot.
Russia appears to be disinterested in the game, but this is far from the truth. One foot hooks coyly at America, while her hand passes a hidden tile to China.  Both countries can be said to be exchanging benefits in secret. Japan is concentrating on her tiles, oblivious to the actions of the others in her focused (self-absorbed?) state.
Taiwan wears a traditional red slip, symbolizing that she is the true heir of Chinese culture and civilization. In one hand, she has a bowl of fruit, and in the other, a paring knife. Her expression as she stares at China contains anger, sadness, and hatred. And perhaps frustration that she cannot play the game.  No matter who ends up the victor, she is consigned to serving fruit.
Outside, the riverbank is darkened by storm clouds, suggesting the tension between the nations is dangerously explosive. The painting hanging on the wall depicts Mao's face, but with Chiang Kai Shek's bald head, and Sun Yat-Sen's mustache.
The four women's state of undress represent the geo-political situation in each country relative to the others. China is naked on top, clothed with a skirt and underwear on the bottom. America wears a bra and a light jacket, but is naked on the bottom. Russia has only her underwear. Japan is naked.
At first glance, America appears to be well composed and seems to be a good position, as all the others are in various states of nakedness. However, while America may look radiant, her vulnerability has already been exposed. China and Russia may look naked, yet their key private parts remain hidden.
Assuming the play of the game requires that the loser of each hand removes pieces of clothing, if China loses, she will be in the same state as Russia (similar to when the USSR dissolved). If America loses, she will also be in the same state as Russia.
If Russia loses, she loses all that is left. Russia acts to be disinterested and unengaged, but in passing tiles to China, is establishing a secret alliance.  Japan has already lost everything, and will be out of the game if she loses again.
America may look well-positioned, but is in much danger. If she loses this round, she will give up her position as THE world power. Russia is playing both sides, much like when China was de-occupied, she leaned towards the USSR and then towards America; as she did not have the ability to survive on her own, she had to weave between both sides in order to survive and develop.
There are too many of China's tiles that we cannot see. Perhaps suggesting that China has several hidden aces.
America appears confident, and is glancing at Taiwan, perhaps trying to read something in Taiwan's face. Perhaps what she sees going on between Russia and China.
Taiwan stares coldly at the game, longing to participate but constrained only to observe. She sees everything that the players are doing, and understands the shifting alliances. But she doesn't have the means or permission to join the game, she isn't even given the right to speak. Even if she has a dearth of complaints, she cannot voice it to anyone, all she can do is to be a good page girl, and bring fresh fruit to the victor.
The positions of power are with China and America. But, while America appears dominant, they are, after all, playing Chinese Mahjong, not Western Poker. In the end, playing by the rules of China's game, how much chance at victory does America really have?