note: this post was originally published in May 2013.  It has been updated as new information is available.  I decided to republish it and move it to the top of my blog, as it is such a "hot" topic.  Latest updates are at the bottom of the post.
Amidst all the other crisis afflicting the world today, one that will surely inflict great misery and result in rising global tension is the unquenchable demand for clean drinking water. Already, one in six people in the world lack safe drinking water. In many of the poorest regions of the world, the availability of drinkable water would relieve much suffering and lift many out of extreme poverty.
The future does not look promising.  The climate change tea leaves are signalling a profound shift of precipitation patterns.  Here is a chart of the Americas (from the Lamont-Doherty Earth Observatory of Columbia University) that shows the projected change in precipitation for period 2021-2040 minus the average over 1950-2000 as a percent of the 1950-2000 precipitation.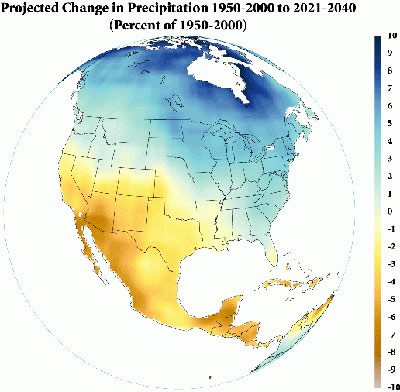 The short analysis is that the north gets wet and the south gets dry. But the story here is that the dry gets VERY dry, uninhabitable dry.
Not to neglect the global impact this change is bound to inflict, but the prognosis for the pacific southwest is dire, and is being touted as "The Greatest Water Crisis in the History of Civilization."
The pithy summary is that if you live in the Southwestern US, Mexico or Central America, you or your children and grandchildren will soon be living through one of the deepest droughts ever recorded.
The evidence appears to be conclusive.  It is already in transition with Lake Mead predicted to become Lake Dead by 2026, creating huge problems for the 27+ million people (in Southern California, alone) that depend on it for water.  Climate change skeptics can form their own conclusions, and make some shrewed land investments.
I intend to continue to track and add to this topic.  For starters, Saudi Arabia is already as concerned about Peak Water as it is about Peak Oil.
Water will become more precious than oil because life depends on it. It will be a source of escalating conflict around the world as various groups attempt to gain control of the available fresh water resources.
And if actual precipitation changes turn out as the models predict, with severe drought inflicting areas containing large human populations, we could see massive human migration to northern regions as water sources able to support these populations diminish in the south.  Based on the map above, all of Southern California, Mexico City, Arizona (ouch),  New Mexico, Texas and Central Americal are likely to be scorched.
This drama will be unfolding rapidly, year over year, in the coming decade.
As if we didn't have enough to worry about.
Addendum and Updates
Dec2011: Natural weather cycles delivered the worst one-year drought in the historic record to Texas in 2011. Scientists examining tree rings had to go back as far as 1789 to find a worse one.
May2013:  The High Plains Aquifer, a waterlogged jumble of sand, clay and gravel that begins beneath Wyoming and South Dakota and stretches to the Texas Panhandle, is tapped out.  Vast stretches of Texas farmland lying over the aquifer no longer support irrigation. In west-central Kansas, up to a fifth of the irrigated farmland along a 100-mile swath of the aquifer has already gone dry.  Once an aquifer runs dry, it can take hundreds or thousands of years to replenish.  Basically, its over.
May2013: The worsening drought along the Colorado River will leave Lake Powell and Lake Mead, the Colorado River's two giant reservoirs, at 45% capacity by year's end, their lowest since 1968. The trend is clearly in the wrong direction.
Oct2013: Pine Flat Reservoir in the Fresno County foothills is currently holding only 16% of its capacity.  San Luis Reservoir, which gets water from the Sacramento-San Joaquin River Delta, is only 22% of its historical average for this time of year.  January through May 2013 were California's driest in 90 years of record keeping.
Jan2014: After 14 years of drought, the declining water levels of the once-mighty Colorado are threatening to take a big bite out of water resources in the Pacific southwest.  Odds are 50-50 that by 2015, Lake Mead's water will be rationed downstream.  Because of the water sharing agreements, Arizona will be very hard hit before California feels the pain.  But that will come.  Unless there is a radical reversal of trending weather patterns, this region will face continuous and increasing pain as fresh water resources diminish.  Los Angeles, San Diego, Arizona, Nevada … by 2020, it will not be pretty.
Jan2014: California declares drought state of emergency.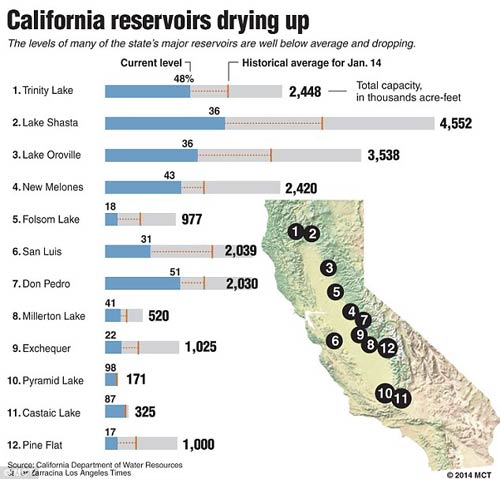 Jan2014: US Drought Monitor shows the deep drought that has the pacific southwest in its grip.  The situation is dire.  Read: "The Worst Drought in the History of California is Happening Right Now."  Unfortunately for California and the southwest, dry is the historical norm.  The 20th century was the anomaly – the wettest century in the western half of the United States in 1000 years, and that extremely dry conditions are what we can expect for most areas from the Pacific Ocean to the Mississippi River.  This inevitable crisis was on the radar for a number of years, and has now reached a critical point where the impact is being broadly felt.  And there is no way out.  There is not enough water.  This is an epic crisis.
Feb2014: National Geographic article on ancient droughts, and what history may tell us what's in store.  Research shows a roughly 50- to 90-year cycle of wet and dry periods over the last few thousand years, with some droughts lasting over a decade. But between 900 and 1400 A.D., during the 'Medieval Warm Period,' there were a couple of droughts that were over a century long.  The article is truly frightening.  If the pacific southwest is in a megadrought, the next decade must see a depopulation from that region, as there will not be enough water to sustain the populations we have living there.
Feb2014: California is a desert.  The last 100 years was a wet anomaly.  Prepare for a deep, decades-long drought.  Or a couple of centuries.  Things will get far worse before they get better in, what, 3 or 4 generations?
100 per cent of California is now classified as in "severe drought" and rivers are so low 27 million young migrating salmon are having to be taken to the ocean in trucks.
Feb2014: Brazil rations water.  Water will be a precious resource which nations will fight over in the coming years.  Oil (energy) is bad enough, but you need water to live.
May2014: Arizona town near the Grand Canyon running out of water.
May2014: Southern California is roasting.  Wildfires are raging in San Diego County, with arson suspected.  But here is what is really troubling.  This is the latest from the US drought monitor.  I think it is self explanatory:
July2014: Update from the US drought monitor of California.  This is just incredible.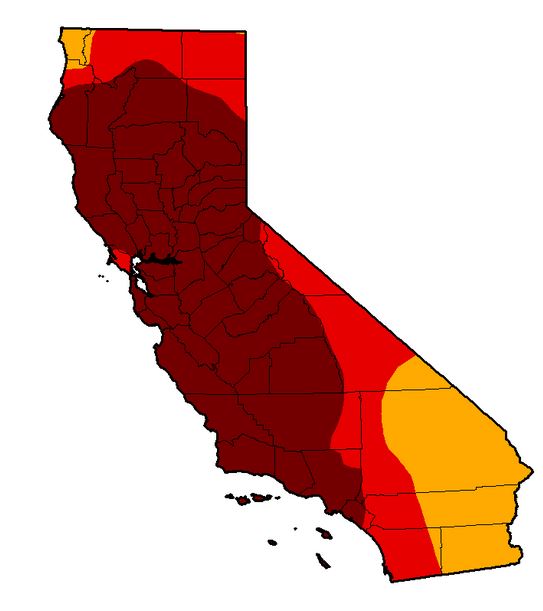 May2014: Collapsing California aquifers sinking land.
June2014: Lake Mead well on its way to becoming Lake Dead.  Las Vegas likely to become victim of parched earth playing out.  It is, after all, a city built in a desert.  Lake Las Vegas is a surreal poster child for the obscene abuse of precious water resources.  Dry up and die.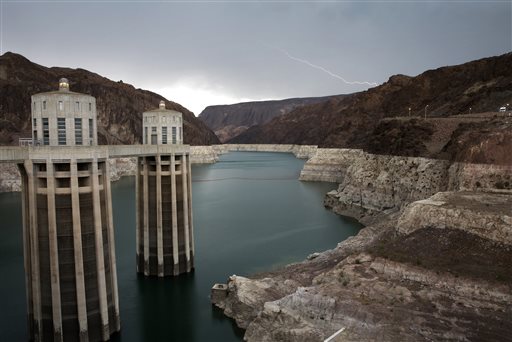 June2014: Lake Mead is about to reach its lowest water level ever.  The dropping water levels, at up to two feet per month, are not only impacting recreation and water supply, but also putting hydro power in jeopardy. With less pressure as the water enters turbines that run the electricity generators, the current capacity is about 1,592 MW — down from the 2,074 MW that's achievable. This could drop to about 1,120 MW by May 2016 if predictions hold.
June2014: Austin, Texas is on the precipice, with doubts about its survival.  It's water supply comes from the Highland Lakes reservoirs, which are fed from the Colorado River.  Today, the lakes are at just 38% of their historic levels. It is estimated that if things get no better, the Highland Lake reservoirs are likely to dry up completely by 2016.  In the face of the catastrophic drought facing Texas and other regions of the US, climate science is considered subversive in Texas because it would force a major rethink of land development and resource use.  Gov. Rick Perry considers global warming a scientific hoax.
July2014: Corporations continue to remove groundwater and privatizing water sources even while those water sources are drying up.
Sept2014: The West Without Water — Dr. B. Lynn Ingram, a professor in the Department of Earth and Planetary Science at UC Berkeley, points to research that suggest there is a 50-60% chance that the drought enveloping the Pacific Southwest and California may last at least 35 years.  Medieval droughts in the area occasionally lasted decades more than that.  Ironically, every one-two centuries, California has been hit by mega floods. The last one was in 1861-62, and filled the entire Central Valley (350 miles long and 20 miles wide) with water 20 feet deep. This was caused by 43 days of rain from atmospheric river storms.
Oct2014: Latest National Weather Service projection for California is more of the same through January 2015.  Even El Niño is expected to be milder than usual, so no relief there.  Bummer.